Without Wiseman, Tigers win by 20+……. again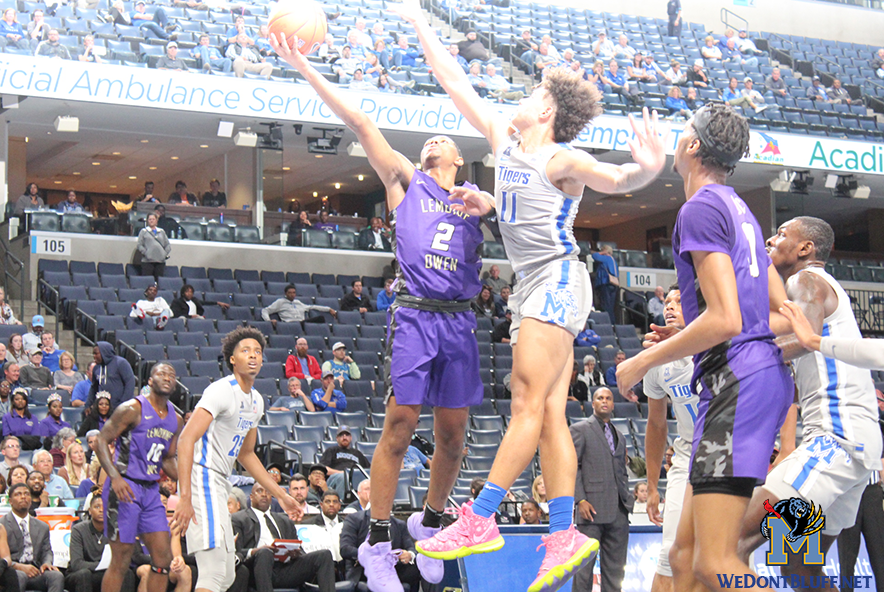 It appeared that James Wiseman would play in this game when he appeared from the locker room dressed out in his game day warm ups.  When he began a separate workout on the opposite end of the court from where the team was warming up, it was evident that he would not play.  During the postgame press conference  Coach Hardaway stated that James is still nursing an ankle that he tweaked in practice a couple of weeks ago.   Wiseman is hopeful for next weeks season opener.  Coach says that there is no need to be alarmed by Wiseman's absence in the two exhibition games.
It's understandable that the projected number one draft pick in the 2020 NBA Draft plays limited or no minutes in an exhibition game.  The Memphis Tigers have their eyes in the prize ( National Championship ) and that  depends on their road to and through the NCAA Tournament.  And that means the fewer losses the better during the regular season.  So I get it.  no need to risk an injury to Wiseman for an exhibition game, especially when you've won both games by an average of 29 points while scoring an average of 87 points. 
For now you can relax and stop pre panicking.  Sure, James Wiseman has not played the first two games and either has Malcolm Dandridge.  
Precious Achiuwa played though.  As a matter a fact he led the Tigers against the Magicians with 21 points and 11 rebounds.  Achiuwa records his first double double  in a Tiger uniform and the Tigers first double double of the season.
Alex Lomax replaced Damion Baugh in the starting lineup. Baugh is inactive due to injury he sustained against CBU.
The Tigers opened the game with great energy going on a 14-0 run but allowed the Magicians to fight back to within 4 points late in the first half.  With a nine point lead and a visibly not happy head coach, the Tigers head to the locker room.  One day we will get to hear one of these halftime speeches but until then we can only imagine what Penny Hardaway says to his team to get them to come out in the second half and turn a 9 point lead into a 25 point victory.  
Lester Quinones snagged ten rebounds and was one point shy of his first double double. Quinones led the team in minutes played  (33:29).  Boogie Ellis played the second most amount of minutes (25:36).  Ellis was very efficient with his time with 18 points, 5 rebounds, 2 assists , 1 seal, and 1 block.  DJ Jefferies added 11 points, 9 rebounds, 1 assist, and 2 blocked shots to the Tigers winning effort.  
Continue to watch out for Lance Thomas.  He will be a threat on both ends of the floor.  Thomas finished the game with 4 points, 4 rebounds, and 3 blocked shots.  During his post game interview Coach Hardaway praised Lances effort and mentioned how important his shot blocking ability is to the Tigers success.  
The Tigers finish their exhibition games 2-0.  The regular season officially begins Tuesday, November 5th.  
For the first time ever, ESPN Gameday will be broadcasting live in  Memphis.  The show will be filmed downtown on Beale Street. 
penny Hardaway, James wiseman

Follow our Social Media feeds for updates throughout the game. Twitter | Facebook | Instagram | YouTube | SnapChat: WeDontBluff.net
VISIT OUR ONLINE STORE TO PURCHASE YOUR WeDontBluff.net Apparel
Subscribe to our Email list to receive most recent news updates and exclusive merchandise & apparel offers