Auto Zone Park Renovations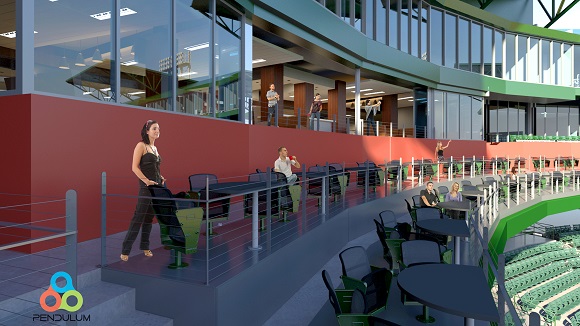 As part of the 2014 long-term lease agreement between the St. Louis Cardinals and the city of Memphis, $4.5 million in bond proceeds were set aside to make capital improvements to AutoZone Park. After the renovations are complete, the capacity of the ball park will be 10,000 fans.
AutoZone Park improvements are scheduled to be completed in time for the Redbirds' Exhibition Game on Friday, April 3 against the St. Louis Cardinals. Please call (901) 721-6000 or visit the Redbirds website for more information.
"Enjoying a game at AutoZone Park will be a first-class fan experience unsurpassed in Minor League Baseball," said William DeWitt Jr., Chairman & Chief Executive Officer of the St. Louis Cardinals. "Families won't want to miss seeing a game in this amazing ballpark."
"These enhancements and upgrades will make going to see the Redbirds or attend an event at AutoZone Park a more exciting and memorable experience for the entire family, one that they will be happy to tell friends and neighbors about," Mayor A C Wharton said. "The more fans share their positive experience with others, the faster attendance will grow and the quicker we will see a return on our investment in this valuable asset."
One of the biggest renovations to the park will be new state-of-the-art LED videoboard displays. There is already a videoboard in right field, this upgraded board will be in left field. This new videoboard will allow for better views, sponsorship activation, in-game entertainment, and game information. A new food option will be available on the right field concourse. More than 10,000 square feet off berm seating will be added to the left and right field areas. Stairs were removed in the left field corner and replaced with a covered destination bar structure that includes high top tables, drink rails, and TVs.
There are also some improvements being made to the second floor of the ball park. Four existing suites behind home plate were removed to create a more vibrant club atmosphere and signature view of AutoZone park for both baseball and non-baseball events. This improved and larger indoor group space will feature retractable windows, more TVs, and a full service 360-degree bar. Four existing suites in right field were removed to create AutoZone Park's first public all-inclusive area, which will feature retractable windows, a full service bar, indoor/outdoor seating, pool tables, and TVs. Tickets to this premium indoor group space will include all food, Coca-Cola products, draft beer, and house wines.
Also, the playing field will receive its first full scale makeover since 2000. The inside of the premium suites will also be receiving a makeover. The floors, walls, and ceilings in 29 suites will be upgraded. Additional TV screens added to various areas around the stadium. Concession stands throughout the ball park will benefit from various upgrades.