Tiger Volleyball Camp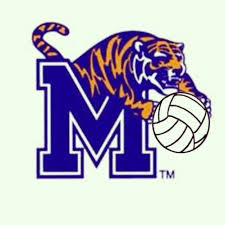 Tiger Volleyball Camps Set for Summer Dates
MEMPHIS – The University of Memphis volleyball staff has announced a series of four camps to take place this summer, including a brand new Little Tiger Camp for girls and boys ages 6-13.
There will be two different sessions of the Little Tiger Camp in June. The first session will run June 3-5th and is for girls or boys ages 6-13. That camp will be an all-day session, running 9 a.m.-4 p.m. and the cost is $160. An optional lunch plan is available for all three days for $20 or $8 per day) and concessions will be available for purchase at lunch and during drop off and pick up times. Discounts for siblings (half off) and U of M faculty/staff (15% discount) are available.
A second session of that same Little Tiger Camp will be available from June 8-10th.  Both sessions of the camp will be held in the University of Memphis' Elma Roane Fieldhouse on campus.
July begins with an All Skills Camp for girls grade 8 and up, July 13 -16. Camp times will run 9 a.m. – 4 p.m. and the cost is $240. The All Skills Camp is designed for the player who wants to improve all of their volleyball skills (passing, setting, defense, serving and attacking). Campers will be grouped according to skill level. Discounts for additional siblings and U of M Faculty/Staff are available by contacting the camp staff.
An Advanced High School Boot Camp will be held July 20-22. This camp is scheduled for high school athletes who want to receive additional training for a specific skill/position. A smaller camp than the All Skills Camp, the advanced camp offers three days of high level skill training with a full 2.5 hours of advanced drills. Hitting, setting and passing drills will run from 8:30 a.m.-11:00 a.m. and floor skills, blocking and serving will run from 12:30 p.m. to 3:00 p.m. Cost is $30 per session or $90 for all 3 morning sessions or all three afternoon sessions. Cost to attend all six sessions is $180.
On-campus housing will be available for the Boot Camp session. Please contact the camp director for additional information and costs.
A team camp session will close out the camp season. The Tigers' team camp will run July 20-23rd and is for junior varsity and varsity high school teams. Check in is at 3:30 p.m. and warm up for first matches runs from 3:30-4:00 p.m. Play begins at 4 p.m. and runs until 10 p.m. each night. Cost for the team camp is $600.  The team camp will be held in both the Campus Recreation Intramural Services Building (CRIS) located at 620 Echles Street, and at the Elma Roane Fieldhouse. No meals or housing are available for team camp.
For information on any of the Tiger camps, visit www.memphisvolleyballcamps.com. Medical waiver forms, directions and contact information for the camp staff are all listed on that website.
-www.gotigersgo.com-