Women's Golf Continues to Lead Field Thru Two Rounds in Florida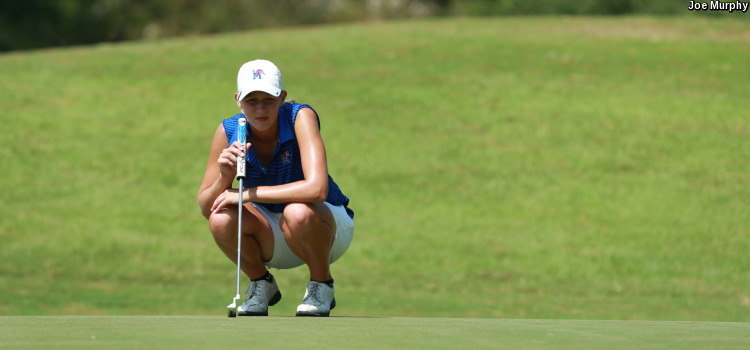 Women's Golf Continues to Lead Field Thru Two Rounds in Florida
HOWIE-IN-THE-HILLS, Fla. – The University of Memphis women's golf team continues to lead the field at the Cincinnati Bearcat Spring Classic after posting a second day 304. Combined with the day one 298, Memphis' combined 602 score is a 14-stroke lead over second place Jacksonville (616) and 17 strokes ahead of Seminole State and North Dakota State (619).
Freshman Emily Goldenstein is tied for the individual standings lead after posting a day two 75 (+3). Her 145 has her tied with Bradley's Danielle Lemek for the tournament lead.
Teammates Ashley Kees and Leighann Cabush are both tied for eighth. Kees posted a day two 75, shaving two strokes off her round one score, while Cabush birdied 18 to put a day two 77 in the books. Kees and Cabush are two of three players tied at 152 inside the top 10 through two rounds.
Freshman Michaela Fletcher is in the top 20 for Memphis after a day two 79 (+7) helped her keep her Tiger team atop the leaderboard. Junior Julia Gerlach took two strokes off her day one score, posting a day two 77 (+5) to sit just behind Fletcher in the standings at 22nd overall.
Sunday's shotgun start to the third round will begin at 8 a.m. The Tigers will go off tees one through four on Sunday morning. Live scoring will be available at www.BirdieFire.com.  >>Click here for RESULTS<<<
-www.gotigersgo.com-
Assistant Director (Women's Basketball/Men's Tennis/Women's Golf)
570 Normal St., RM 203C/Memphis, TN 38152
Office: (901) 678-5787 | Cell: (901) 734-1504 | Fax: (901) 678-4134
tdegroff@memphis.edu | GoTigersGo.com | BeAMemphisTiger.com