East High Class 3A State Championship #DidIt4Dez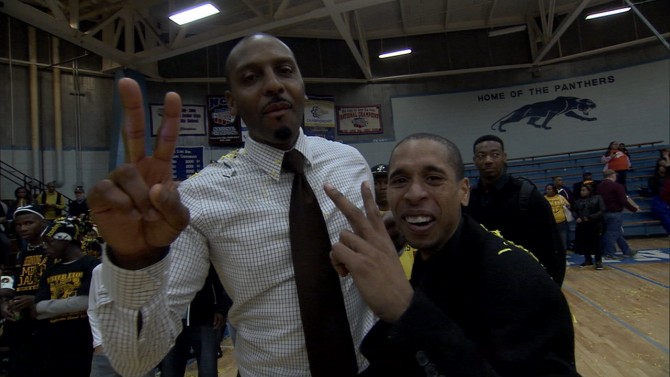 I think that it is special that I get the honor of writing my first article for We Don't Bluff about my alma mater East High School that won its 7th State Championship in basketball this weekend. I remember taking that bus ride to the other side of Tennessee during the Tony Harris era to compete for state titles, but this particular title meant so much more to the players of East High, the community of Binghampton, and any true sports fan because this was destiny completing its final course. This team won this title for Desmond Merriweather. This team did it for Dez.
Coach Desmond Merriweather was the exception to what a lot of people think about when they think of a kid growing up in Binghampton. An excellent high school basketball player, that once his college career ended returned to Binghampton to coach Lester Middle School's basketball team. Being from the area he related to his players a lot on and off the court which earned their respect. To most players he became the father figure that they had never had. Due to becoming more of a close knit family rather than a team, Coach Merriweather and his team excelled at Lester and won several championships. Unfortunately, Coach Merriweather's biggest battle was yet to come.
In October 2010, Desmond Merriweather lay in a hospital bed. He'd battled colon cancer for more than a year. Chemo, radiation and multiple surgeries had done little to stop the cancer's spread. Many counted Coach Merriweather out but most importantly, he never counted himself out. A miracle happened. Coach Merriweather garnered enough strength to not only leave that hospital but to return to his true love of coaching Lester Middle School basketball. While battling for his life with stage 4 colon cancer in the hospital, Coach Merriweather reached out to long time friend and retired NBA star Anfernee Penny Hardaway to take over coaching his team. What happened next was so special it gained national attention from CNN, ESPN, and many other news publications.
Together Coach Dez and Coach Penny guided Lester Middle School to multiple state basketball championships. As the kids grew older and were leaving Lester Middle School for East High School, both coaches made the decision to grow with the players they had been coaching. Sadly, Coach Merriweather's valiant battle with cancer ended February 8, 2015 leaving the community of Binghampton heartbroken knowing they had lost one of their best.
From Coach Merriweather's passing, came the phrase "Do It For Dez." This was East High School's and Binghampton's phrase that, like Coach Merriweather, was destined for greatness. With the 2015-2016 being Coach Penny's first full year as the head coach, East High soared to new levels. The team played so well together that they began to gain national attention which later turned into a national ranking of 20th out all high schools in the country.
East only lost 2 games all year and both games were by very small margins. On Saturday (3/19), East played Cordova for the 3A state title. After a long hard fought battle East came out victorious 64 to 60. With the mission complete and Coach Merriweather somewhere in Heaven celebrating his team's win, Coach Penny reminded everyone of why we were here and of who got us to this point… "We did it for Dez!"