GRIZZ DELIVERS A SMILE TO A MEMPHIS SUPER FAN
It's Wednesday evening and most Grizz Fans were waiting the 8 on 5 matchup between The Memphis Grizzlies Vs The Golden State Warriors & The Refs. One special grizzlies fan did not know that he was in for, what he described as, the best day of his life.  Six year old Kylan Hardeman thinks he won a bedroom makeover compliments of Ashley Furniture. Well, he did win the makeover but what he wasn't expecting is for his favorite NBA Mascot, Super Grizz, to show up and help him pick out the items for his new "big boy bedroom." On March 11, Ashley Furniture announced their Memphis Grizzlies Kids Super Fan Contest.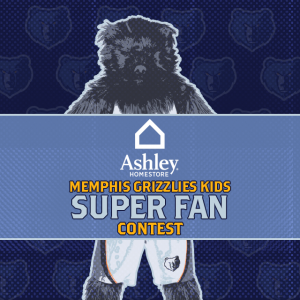 "We have partnered up with the Memphis Grizzlies to give you a shot at a Kid's Room Makeover PLUS a day to shop with the Grizz! Show us your little GRIZZ SUPER FAN for a chance to win! Enter your super fan now through March 31st. Voting will open up on April 1st through April 6th. Winner will be announced on April 8th. The Super Fan with the most votes wins! Good Luck!!"
In the past Ashley Furniture joined forces with the University of Memphis to give away furniture if the Tigers won the NCAA Basketball tournament.  After John Calipari's departure, year after year it became increasingly more difficult to believe that the Tigers would even make the Tournment, not o mention win it all.  So, as it became  inevitable that the Memphis Grizzlies would make the NBA Playoffs for the sixth consecutive season, it only makes sense that Ashley Furniture partner with the Memphis Grizzlies to sponsor a contest benefitting the biggest  'Lil Fans' in the city.
Casey Slagle, Community Specialist for Ashley Furniture Home Stores says,
"Our goal was to create a contest that was interactive, and people could show off their kids. We were also looking for a way to really make it a great experience for the kid instead of just another prize or giveaway. Through our partnership with the Memphis Grizzlies, we were able to talk to them and get Grizz to come out and shop with our winner!  We also wanted the community to choose our winner, rather than just randomly select one. Our company believes that Life Moments Matter- we don't just sell furniture, we want to help our guests create the space in their home where life's most precious moments happen."
On April 8th, Ashley Furniture announces that Kylan Hardeman is the winner of the Memphis Grizzlies Kids Super Fan contest.  Kylan won the contest with 129 votes.  The second place contestant finished with 99 votes.
Kylan and his entourage (Mom, Aunt, Cousin) arrive to Ashley Furniture at 7951 Winchester a few minutes before 6pm on Wednesday evening.  Store Manager Zedric Macklin, his staff and few Members of the Grizzlies organization were on hand to greet Kylan and his family. Super Grizz was still a few minutes away so Kylan had time to browse while he waited on a surprise that would leave him shocked and literally at a loss for words. Once Grizz arrived and surprised, it took Kylan a moment to overcome his excitement and find words to express his excitement. Once he was able to find his words and get his breathing back under control it was time to "Blow a Bag", $2500 to be exact. Not sure if that's enough to qualify as 'A Bag' but it was definitely enough to leave little Kylan excited and speechless.
In addition to his new bedroom, young Kylan received a Grizzlies backpack full of memorabilia which included, something I would like to own, the complete Mt Grizzmore collection. The backpack also included a cap, flag, Marc Gasol growth chart, and several other items including a Grizzlies scarf that Kylan's mom convinced him to let her have it.
[igallery id="11272″]
A few hours after the shopping spree ends, Grizzlies @ Warriors began. The injury riddled Grizzlies were on the losing side of history as the Warriors racked up their 73rd win of the season. They won this game in a more convincing fashion. It was all good a week ago, but actually it wasn't.  Even though the game was in Memphis, the Warriors 6th (7th & 8th) man came through with the clutch no call. All Ray Charles and Stevie Wonder would have had to do was take off the Locs and they could have seen Steph Curry shove Lance Stephenson with perfect chest pass technique as he attempted what would have been a game changing last second shot. That happened and now we're here.
The Grizzlies finished the regular season with 7th seed. The reward for such an accomplishment is a 2nd seeded San Antonio Spurs team that will present as much of a challenge as the entire season has for the Memphis Grizzlies.  Many fans and foes have already written the Grizzlies off for this series. But that's nothing new for the once nicknamed Goon Squad. When the news came down that Marc Gasol suffered a broken foot and would miss the rest of the season, not many people gave the Grizzlies a fighting chance at making the playoffs. BUT, the Grizzlies did just that, fight. Fight, Grit & Grind is exactly how a team that made a different kind of history even makes the playoffs. Throughout the 2015-16 season, 28 different players suited up for the Memphis Grizzlies. Can you name everyone in the picture?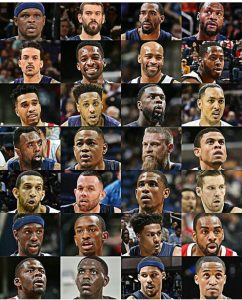 During an interview with Chris Vernon, Tony Allen reveals that Ryan Hollins" nickname is "The Booty Call"  because he is always available when the Grizzlies needed a player and no one else answers the phone during their moment of desperation. But if Ryan Hollins is the Booty Call because of his last minute availability , what does that make the Grizzlies if almost anyone that can handle the ball gets a shot at a roster spot? Things that make you go hmmm……
The Grizzlies open playoff play Sunday in San Antonio. Home playoff games for this series will be Friday 4/22 and Sunday 4/24. See the charts below for the entire game and broadcast schedule.
Come socialize with us:
https://twitter.com/wedontbluff901
https://facebook.com/wedontbluff
htps://Instagram.com/wedontbluff901
GAME

DATE

LOCATION

TIME (CENTRAL)

Game 1
Sunday, April 17
San Antonio
7 p.m.
Game 2
Tuesday, April 19
San Antonio
8:30 p.m.
Game 3
Friday, April 22
Memphis
8:30 p.m.
Game 4
Sunday, April 24
Memphis
12 p.m.
Game 5*
Tuesday, April 26
San Antonio
TBD
Game 6*
Thursday, April 28
Memphis
TBD
Game 7*
Saturday, April 30
San Antonio
TBD

Game

Date

Location

Time (CT)

Television

Radio

Game 1
Sunday, April 17
San Antonio
7 p.m.
FSSE/TNT
92.9 FM ESPN
Game 2
Tuesday, April 19
San Antonio
8:30 p.m.
FSSE/TNT
92.9 FM ESPN
Game 3
Friday, April 22
Memphis
8:30 p.m.
FSSE/ESPN
92.9 FM ESPN
Game 4
Sunday, April 24
Memphis
12 p.m.
ABC
92.9 FM ESPN
Game 5*
Tuesday, April 26
San Antonio
TBD
FSSE + TBD
92.9 FM ESPN
Game 6*
Thursday, April 28
Memphis
TBD
FSSE + TBD
92.9 FM ESPN
Game 7*
Saturday, April 30
San Antonio
TBD
FSSE + TBD
92.9 FM ESPN