Melorose 21 vs Raleigh Egypt 26 #TiredofLosing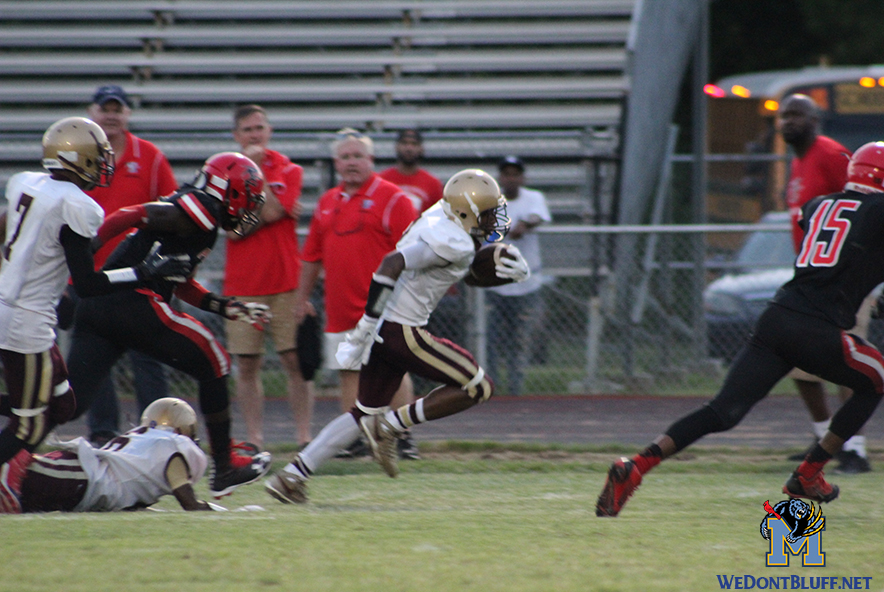 Melrose Golden Wildcats 21  VS  Raleigh Egypt Pharaohs 26
[mediagrid cat="520″]
Friday night the 0-3 Melrose Wildcats visited the 3-0 Raleigh Egypt Pharaohs.  The Wildcats are in desperate need of win and the Pharaohs want to keep their record unblemished.
When Melrose jumped out to an early 13-0 lead, I began to believe that this would be the week that the Wildcats finally get a W.  By halftime the 13 point lead was gone and the Wildcats trailed by one point (14-13).
The Pharaohs score the only points in the 3rd quarter and again in the 4th.  The Wildcats appear poised to make a comeback as time ticks off the clock.  Trailing 26-13 Ken Jones puts six points on the board and Michael Malone makes good on the two point conversion.  Down by five, all the Wildcats need to do is get the ball back and put it in the end zone.  Only if there were more time on the clock or if they had started the comeback a lil sooner there might have been a chance at victory.  The final seconds ticked off the clock and the score remained 26-21.  Game, Pharaohs.
It's always easy to stand on the sideline and have an opinion about whats going on in the game.  Considering I never played football, my opinion may not hold much weight.  Out of four losses, three of the games were definitely winnable.  The game against Raleigh Egypt was thought to have given Melrose the best chance for a victory.
From the sideline this is what I saw:
Players wearing the same uniform arguing with each other
Finger pointing in the form the grunts and grumbles about who didn't do their job on the field
Raleigh Egypt was having it their way on both sides of the ball, up and down the field
Coaches and parents getting frustrated with each other
Dejected players that are frustrated with loosing
Frustrated coaches that don't understand why their players aren't responding
A fat person will be fat until they are tired of being fat.  Then they will do what needs to be done so they can lose weight.  A broke person will be broke until they decide to get some money.  A loser will lose until they decide to win.
I've heard several players say "I'm tired of losing".
I won't single any one person out, but I have questions for anyone that  has said "I'm tired of losing":
Are you tired of losing or are you ready to win?
What are YOU going to do to becomes winners?
What can you do differently?
You talk that talk, can you walk that walk?
Are you giving it your all in practice?
Do you really think that all those other teams are better than you?
Somebody has to win, why not you?
What's your why?