Tigers Roar Back On Right Track
University of Memphis – 66 VS Tulsa University – 44

The Tigers  lost  to Tulsa at Tulsa earlier this season.  On Tuesday night Tulsa was in the Bluff City for their second match up of the season with the Tigers.  This time The Tigers would deal the Golden Hurricane a different fate.
Coach Tubby Smith pretty much called his team out for various reasons over the past few days.  I think it's safe to say that he has their attention now.  After a slow start and a loosing effort against UCF, the Tigers bounce back with the type of play that we have seen more than a glimpse of this season.
The Tigers fell to an early 8 -15 deficit.  Tulsa scored the first 8 points of the game.  Memphis managed to put together a 13-0 run in the first half.  They secured the lea during this run and never trailed again in the game.  One of Coach Smith's favorite sayings is that the halftime score is the most insignificant score of the game.  That 13-0 allowed the Tigers to lead 32-27 at halftime.  With increased intensity in the second half, Tubby's Tigers put together an 18-2 run.
Let's talk about Deric Lawson for a second or two.  Lawson entered Tuesday  evenings matchup 5 points shy of 1,000 career points as a Tiger.  With 2:07 left in the first half he scored his 1000th and 1001st point in a Tigers uniform.  Lawson accomplished this in just two seasons, the shortest mount of time in the history of the American Athletic Conference.  He is in elite company with this accomplishment: Penny Hardaway and Keith Lee just to name a couple.  If he stays another year he should be able to eclipse, Tiger Legend, Anfernee Hardaway Dedric Lawson became the program's 51st player to score 1,000 career points, and just the 10th to do it in his second season with the program.  Lawson has moved into 48th all-time on the scoring list, passing Earl Barron (1,002 / 1999-03), Hunter Beckman (1,007 / 1960-63), and tied with John Hillman (1,009 / 1962-63).
Dedric scored in double figure for the 23rd time this season and for the 50th time in the two years he's been at Memphis.  Also, he recorded his 16th double double of the season anthe 33rd of his career.  This ties Lawson with James Bradley for sixth all-time in career double doubles in school history.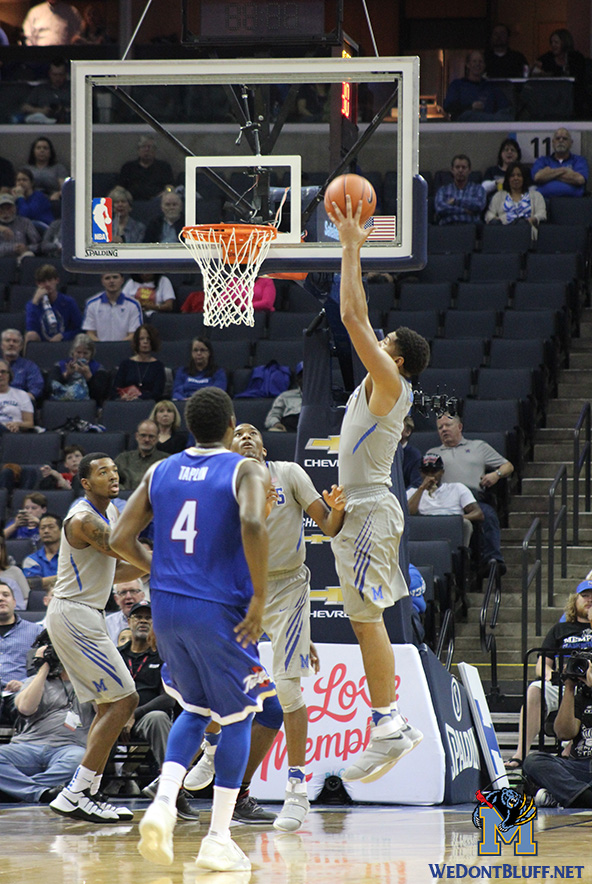 Markel Crawford scored a game-high 19 points, making 8-of-13 shots from the field, and 3-of-8 from long range.  Whatever Tubby said to Markel and his teammates, we'd like him to say it again between now and Sunday.  Only problem is, that would mean somebody would have to upset him again, and that we don't want.  Whatever happened, happened and it's over.  Whatever was said was surely said out of love and a commitment to being better.  No need to cry over spilled milk, but it's okay to raise your voice over missed shots and lack of focus.

Christian Kesse got in the game and points on the board early, which he was rewarded for with more miutes in the game.  Kessee had 7 points at half time and finished the game with the same seven points.  After the game Kessee addresses his not living up to expectations.  He also spoke about the pressure of being on the bench and watching his teammates leave it all on the floor game after game, many of which several players had to play the entire 40 minutes.
We should expect to see more production from Kessee and other players coming off the bench.  It appears that he has figured out how to carry his performances in practice into the games.  Kessee syas he doesn't miss many shots in practice, a sentiment that is echoed by Markel Crawford, " he doesn't miss".
KJ Lawson also scored in double figures (12).  KJ filled up every other line of the stat sheet as well with 4 revbounds2, assists, 2 blocks, and 1 steal.  All of this was accomplished with 38 minutes of play.  Jimario Rivers tweeked his ankle in the first half and was limited to 2 points in 20 minutes.
The Tigers next game is Sunday when the Temple Owls swoop into town.  At  Sundays game the latest inductees into the University of Memphis hall of Fame will be honored.
STEPHEN GOSTKOWSKI, Football & Baseball (2002-05)
CHRIS GARNER, Basketball (1994-97)
DUSTY FARMER, Baseball (1974-77)
KATHERINE LEHMAN-PATNODE, Volleyball (1987-90)

TO PURCHASE TICKETS, call (901) 678-2331 or 1-888-867-UofM
Season tickets for the 2015-16 season are on sale now. Season tickets can be purchased by clicking ORDER HERE  or by calling the Ticket Office at (901) 678-2331 or (888) 867-UofM. Visa, Mastercard, American Express and Discover are accepted.
All ticket prices are subject to change
Tickets are based on availability
Individual games are subject to exclusion
 Season Tickets
 Section/Area

Price

Purchase

Floor Seats – Row 1
$4,700
Floor Seats – Row 2

$2,675

Floor Seats Endzone Row 1

$2,675

Floor Seats Endzone Row 2

$1,325

Plaza – Wait Service
$850
Plaza – Prime
$785
Club
$780
Club Box
$850
Terrace Level
$240
Purchase
Terrace Faculty Staff Rate
$120
Special Terrace Level
$115
Purchase
Tiger Hoops Pass (Digital Ticket)
$99
Purchase
Parking – FedExForum
$365
Purchase
Parking – LAZ 2nd Street Garage
$280
Purchase