THE TIGERS TAKE LAMBUTH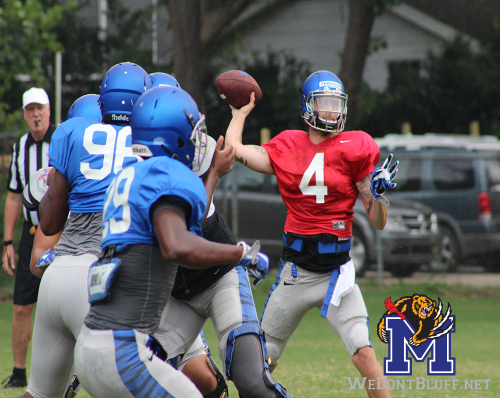 For the second straight year the Tiger Football program concludes Fall camp with a scrimmage at Lambuth. While in Jackson, TN the team spends time bonding and learning about each other. The group leaves Memphis as a football team and return home a FAMILY. Saturday's scrimmage gives loyal Tiger fans an early peek at the team to measure their progress against all of the preseason praise, predictions, and accolades.  According to Norvell the Tigers 'Focus On The Day' in order to deal with all of the outside chatter about the expectation of the teams success this upcoming season.
It was a fun time for all in attendance.  The football team provided the entertainment on the field. After the game , The University of Memphis Alumni Association sponsored a meet and greet with Coach Norvell  and The University of Memphis Tiger Football Team.  Food was provided by Buffalo Wild Wings.  CLICK HERE for more information on joining the University of Memphis Alumni Association.
The Tigers are just over two weeks away from their season opener at Liberty Memorial Stadium when they welcome Th University of Lousiana @ Monroe.  To support the Tiger Football program CLICK HERE to buy tickets to the games.
[mediagrid cat="598″]