Tigers Execute!!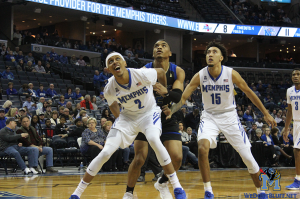 The Tigers are looking for their first win in conference play while the Tulsa Golden Hurricane aim to remain undefeated in the AAC.  Memphis had dropped their last three games including a 34 point ass whooping (Tubby'swords not mine) from Cincinnati.  Heading into this game I'm  not sure how many people even though the hometown Memphis Tigers had a fighting chance at winning.  I'm not sure exactly why the "they's" are so upset about games before they are even played.  If the game results in a loss I can understand some of the frustration.  Certain individuals, will remain nameless for now,  looked at the schedule and automatically assume and predict the Tigers to lose at least four of the next five games.
Well, in case you didn't know by now, your University of Memphis Tigers handed the Tulsa Golden Hurricane their first AAC loss of the season.  Before losing to LSU the Tigers were undefeated inside the Fed Ex Forum.
I could see it in his eyes and in his effort within the first five minutes of the game, Jeremiah Martin was determined not to lose this game.  Martin led the way, finishing the game with 28 points, 5 rebounds, 8  assists, 2 steals, and 1 block.
Mike Parks Jr has really stepped his game up over the past couple of weeks.  Parks finished the game with a career high 16 points, 7 rebounds.
Kyvon Davenport started the game averaging 12.7 points and 6.1 rebounds per game.  Foul trouble limited Davenport to only 25 minutes.  In that time frmae he managed to contribute 11 points, 2 rebounds, and 2 assists to the Tigers 9 point (76-67) victory over Tulsa.
The freshman Jamal Johnson 6.1 points per game but Saturday he score filled up the stat sheet with 10 points, 4 rebounds, 3 blocks and an assist.  The Tiger bench combined for 11 points.
The Tigers are back in action Tuesday  Jan 9th when they host The Tulane Green Wave.  Tulane is currently 2-1 in the conference.
Follow our Social Media Feeds for updates throughout  the game.
 Twitter | Facebook | Instagram | YouTube | SnapChat: WeDontBluff.net
VISIT OUR ONLINE STORE TO PURCHASE YOUR WeDontBluff.net Apparell
Subscribe to our Email list to receive most recent news updates and exclusive merchandise & apparel offers.