THE MEMPHIS TIGERS REMAIN UNDEFEATED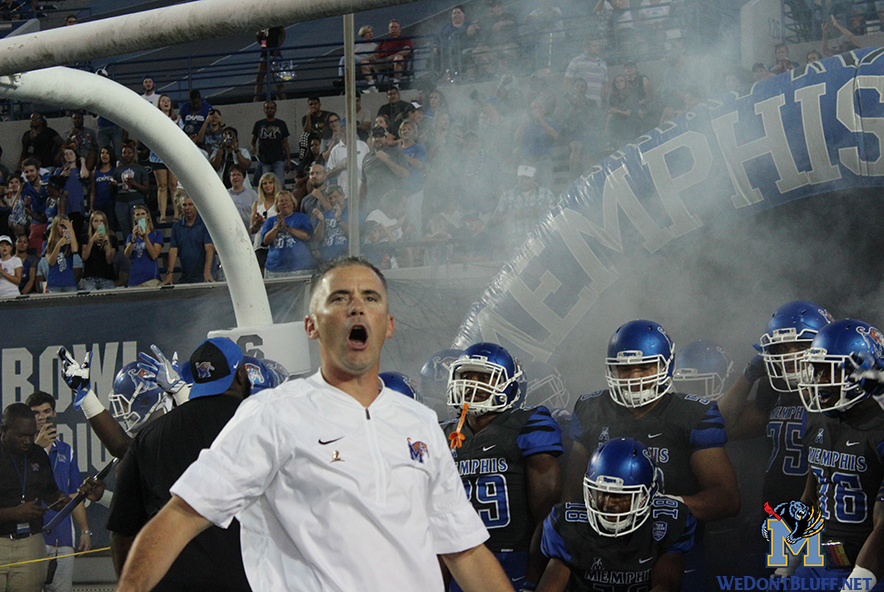 University of Memphis Homecoming 2017
Southern Illinois Salukis 31

vs

University of Memphis Tigers 44

 

University of Memphis homecoming was a blast.  I graduated from the University in 2008.  Yesterday was  the first time I saw some of my former class mates in a long time.  Not only was it a good day for friends to catch up on old times with each other while tailgating, there  was a decent football game on the field.
Southern Illinois started off the game strong going up 14 -7  over Memphis in the first quarter.  Memphis ties the game in the second quarter on a 9 yd pass from Ferguson to Magnifico responds with seven points of their own then #19 Rupert (SS) made an interception with 9:00 minutes left in the 1st half at mid field and took it back to the Memphis 14. Setting up #3 Anthony Miller (WR) to score a touchdown from #4 Riley ferguson (QB)  and #17 Spencer Smith (P/PK) ties the game with the field goal.
Memphis trailed by four points at halftime.  After watching the first half, I imagine Coach Norvell gave a Coach Calipari type speech at halftime and his Tigers responded.  The hometeam outscored the visiting Salukis 17-3 in the third quarter.  Darrell Henderson rushes for a 14 yard TD and Riley Patterson makes good on a 30 yard field goal attempt.  One day teams will learn about kicking to Tony Pollard.  With five seconds left in the third quarter Pollard returns the ball 100 yards for six points and Riley Patterson converts the extra point.  Tigers lead 34-24 heading in to the fourth quarter.
In the 4th quarter the Tigers increase their 10 point lead to 13 with a 32 yard field goal by #17 Spencer Smith bringing the score to 37-24 with 10:31 left in the 4th quarter.
SIU scores in the forth quarter bringing the game to within 6 but the Tigers answer back with a six yard run by #6 Patrick Taylor (RB) with 1:21 left in the game.  The Memphis Tiger defesne keeps The Salukis out of the end zone  at the end of the fourth quarter, resulting  in another Memphis Tiger Football victory, 44-31.
Riley Ferguson finishes the game with 288 passing yards to nine different receivers.  Patrick Taylor led the team in rushing with 77 yards and one touchdown.  Darrell Henderson added 71 more yards and another touchdown.  Ferguson even got in on the running action with 23 yards of his own.
Austin Hall led the defense with nine tackles.
The Tigers remain undefeated on the season , 3-0, as they begin conference play next weekend at UCF.  The Tigers are on the road the next two weeks at UCF then at UCONN.  The teams next home game is 10/14 against Navy.