Tigers Ride the Wave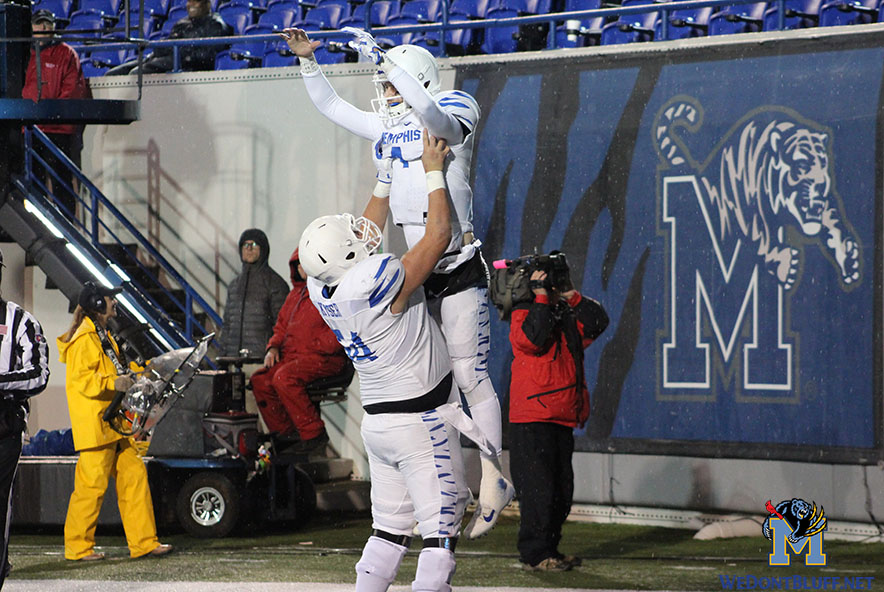 Just like rain storm before the game, Seemed as the tigers Offensive rained touchdowns racking up 5 in the first half outscoring The Tulane Green Wave 35 to 12. The scoring thunderstorm started with a 58 yard run by #1 WR Tony Pollard, Anthony Miller with a 16 yard reception from Quarterback #4 Riley Ferguson, Sean Dykes with a 38 yard pass from Quarterback #4 Riley Ferguson, #8 Running Back Darrell Henderson with a 82 yard run for a rushing td (longest of his career) breaking his old record of 80 yards, and a 37 yard pass reception by Kadarian Jones from Quarterback #4 Riley Ferguson.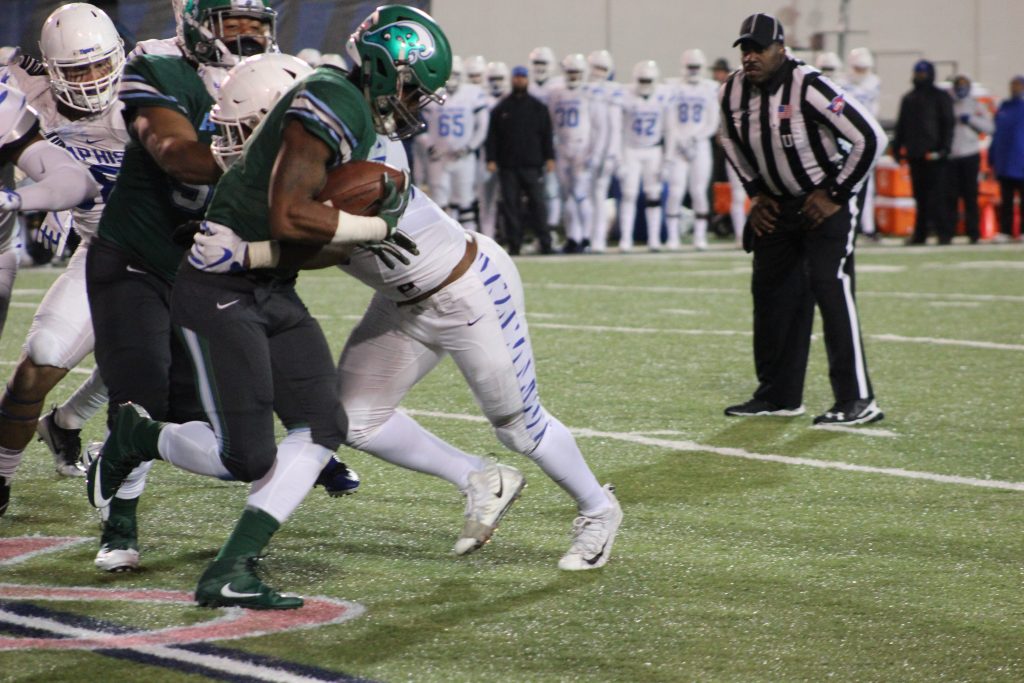 Tulane Quarterback #1 Jonathan Banks showed a lot of heart rushing for 60 yards and a two touchdowns one rushing & one passing to Tight End #83 Charles Jones II in the first half.
Tulane came to memphis looking to redeem themselves after a 28-34 loss to USF and finally receive their first road win of the season. The Tigers came into today's game leading the all time series against Tulane 21-11-1 with the Tigers winning the last 10 games.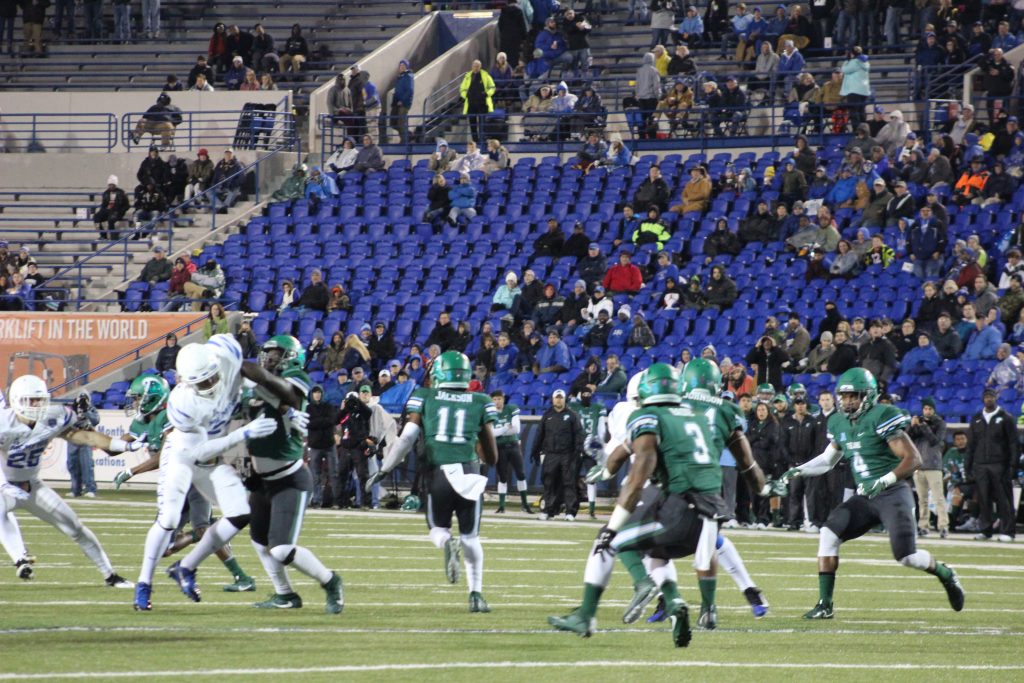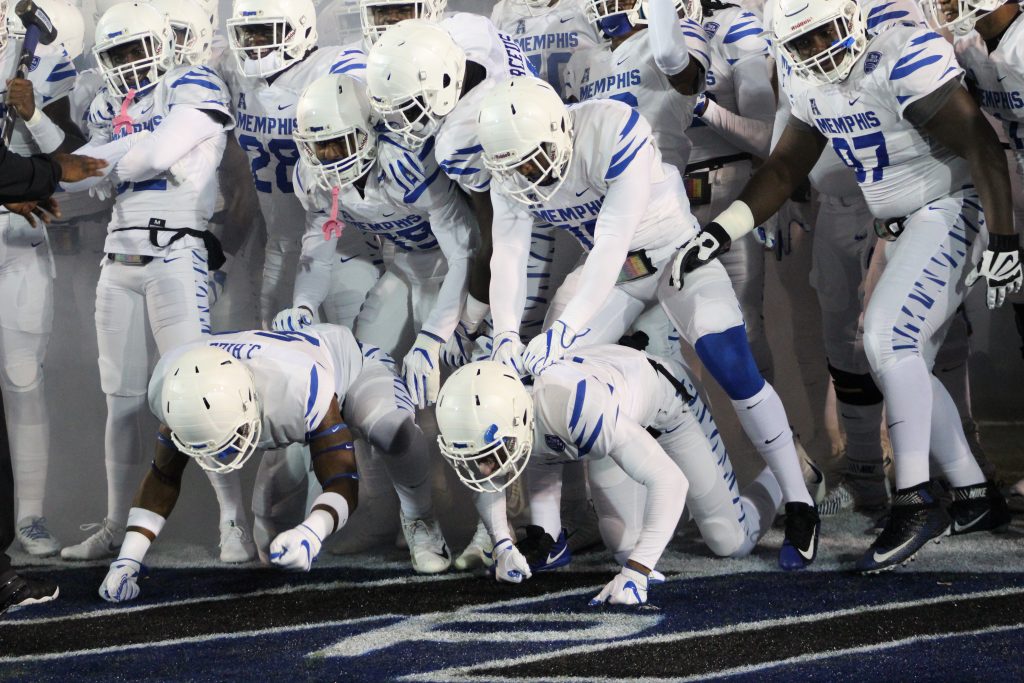 After watching the rain storm by the memphis offense in the first half, the defense decided to ride the wave when Linebacker #25 Austin Hall forced a fumble and scored a defensive touch down bringing the score to 42-19 with 12:32 left in the fourth quarter.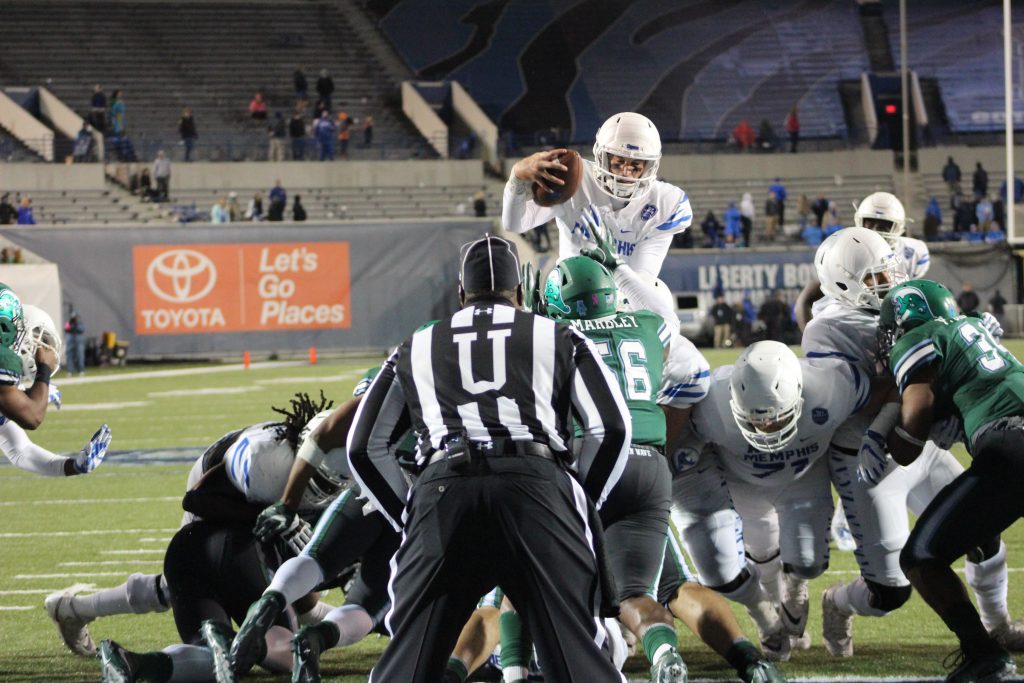 Tulane answered with a passing touchdown bringing the game to 42-26 in the 4th. Quarterback #4 Riley Ferguson continued the touchdown storm scoring his own 2 rushing touchdown putting memphis up 56-26 with 7:32 left in the 4th quarter. Tulane tries but cant answer & the Tigers ride the Wave for the rest of the game and surf to victory.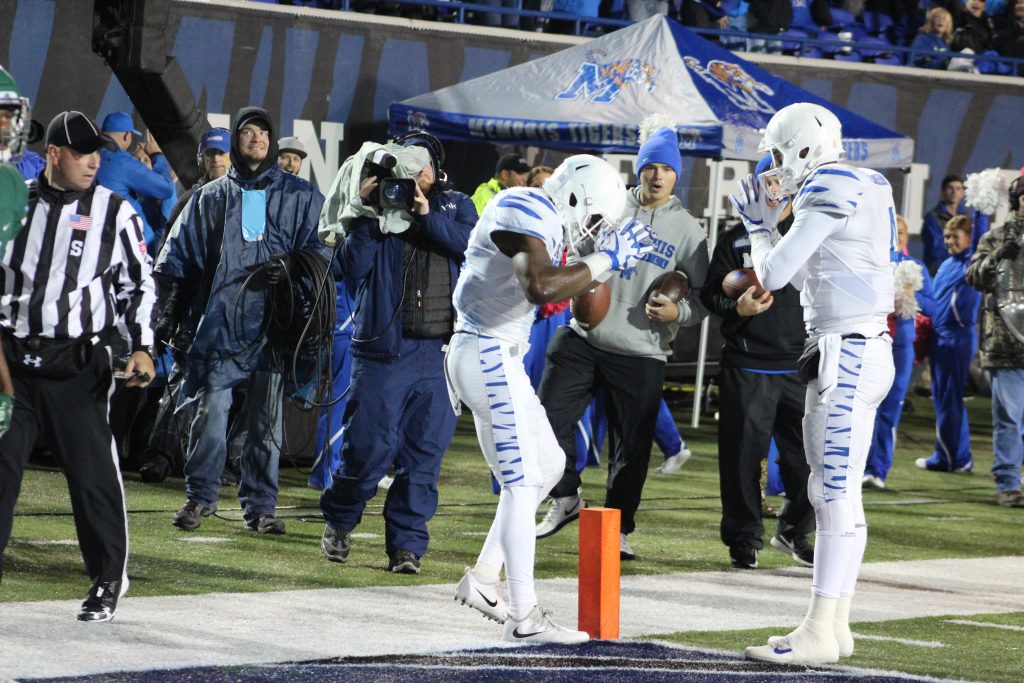 Tulane is located in New Orleans, LA. so we would like to drop some cool facts while giving props to the team, coaching staff over at Tulane, & The great State of Louisiana for the tigers "Nola Connections"producing eight players from the state (all no further than 90 miles from New Orleans), DB Nehemiah Augustus (Patterson), WR Damonte Coxie (Reserve), RB Doroland Dorceus (New Orleans), DB Josh Perry (Amite), WR Pop Williams (Destrehan), and DL Jonathan Wilson (Port Sulphur).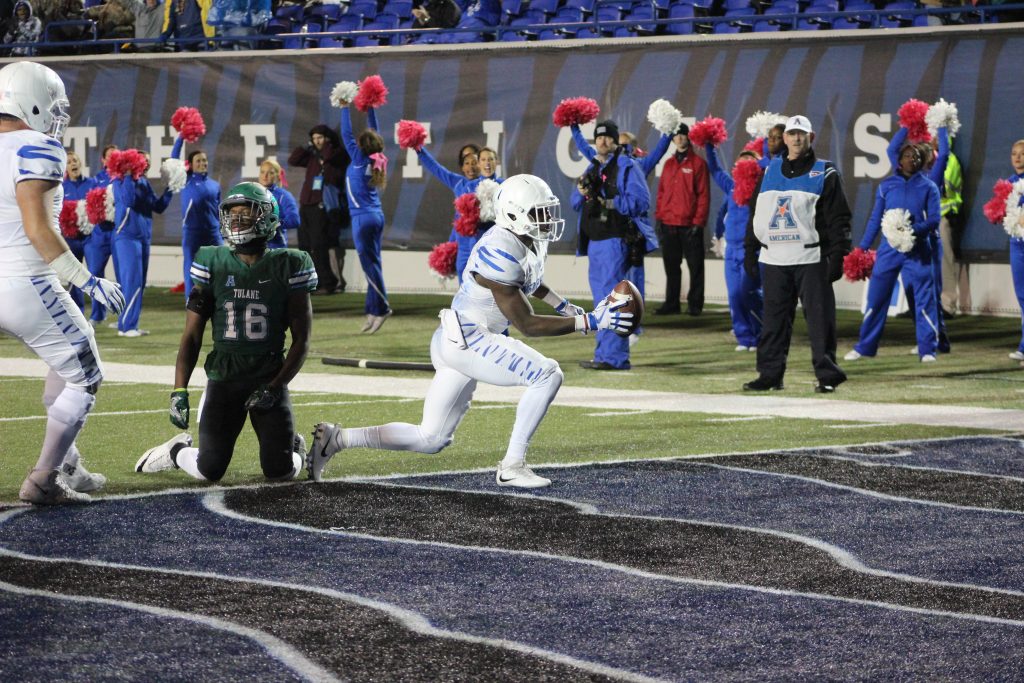 Anthony Miller became the second receiver in program history with over 200 catches, he also upped his career receiving yardage to become the first place all-time in receiving surpassing the record of 2,981 yards set by Duke Calhoun #88 WR (2006-2009).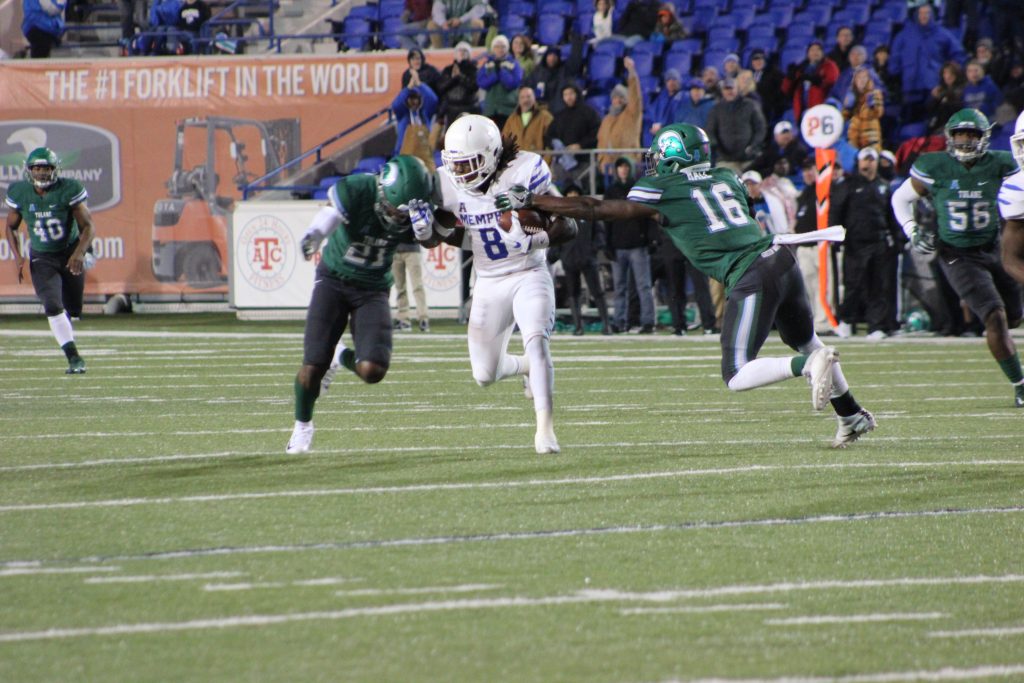 The biggest highlight of friday night's game was the "Tiger Touch Down of the Game" by RB #8 Darrell Henderson – 1 Play, 82 Yards, in 13 Seconds.