Tigers Staying Focused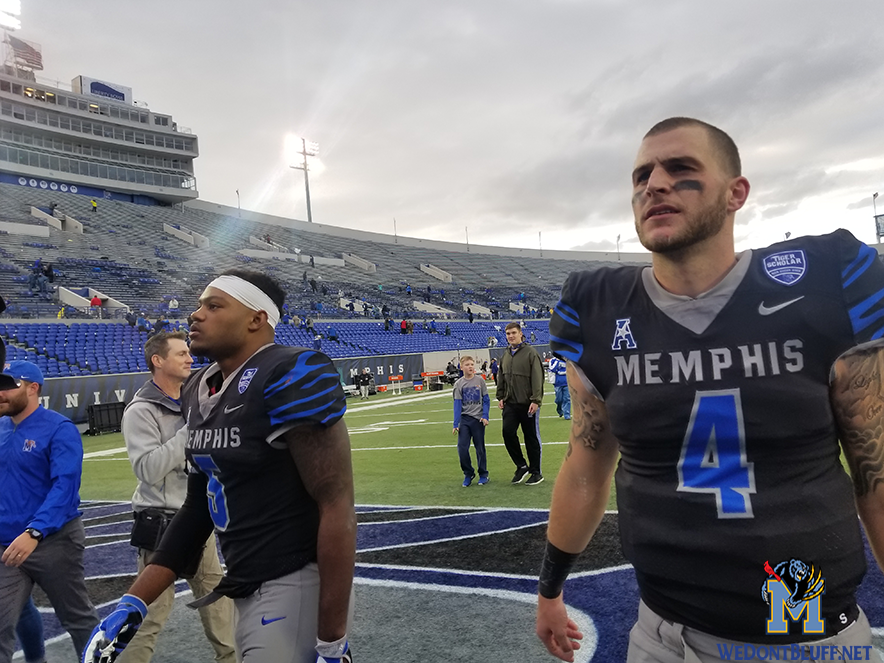 The Memphis Tigers faced not only rain but also a 57 minute lighting delay this past weekend while taking the field against their opponent SMU. But through it all, the Tiers became champions in their western division conference.
As over 35,000 fans watched, the Tigers gave SMU a fight for the title. Lead by the prominent offensive players Darrell Henderson with two TDs and 156 yards, Anthony Miller with 163 yards and 2 TDs and also Patrick Taylor, Jr. with 112 yards and 2 TDs. Senior Riley Ferguson threw for over 300 yards in the game giving the tigers the 66-45 win over SMU.
The Tigers were named the American Athletic Conference West Division Champions on Saturday and also landed a spot in the league championship game on Dec. 2. The Tigers will face the winner of the USF-UCF game and the location will be determined. If UCF wins, the tigers will travel to Florida but if USF wins, the tigers will play in the Liberty Bowl Stadium.
In this past week's press conference with Coach Norvell, he gave his insight into this season progression and his relationship with the team. A notable quote made by Norvell was regarding the fact that Memphis has another chance to make history this season.
"It provides our football team with an opportunity to attempt to get our 10th win. That's a big milestone for our program. We also have the opportunity to go undefeated at the Liberty Bowl this year, which is something that's big." Norvell stated at the conference on Monday.
When asked about his relationship with the seniors, Norvell expressed his emotions about the team, saying "Those relationships mean everything. From the day I got here, I asked them for an opportunity to prove that I was trustworthy to this team. From day one, they have been my guys. Those relationships will be able to last a lifetime, and those experiences will last a lifetime."
The Tigers will wrap up their regular season this Saturday, Nov 25, at home against ECU at 11 AM. It's Senior Night and the University will honor this year's class of 21 seniors.
This is the Game Day timeline for Saturday:
7:00 a.m. — Parking lots for season pass holders open. Purple Lot $20 Cash Parking through Access 10 and 11
8:00 a.m. — General Ticket Sales/Will Call Windows open and Student Tailgate
8:30 a.m. — Tiger Walk on Tier Lane Near Fountain (Weather Permitting)
10:15 a.m. — Pep Rally by the Fountain on Tiger Lane
10:30 a.m. — Senior Day Presentation
10:45 a.m. — On-Field Pre-Game Begins
11:01 a.m. — Official Kick-Off Time
And Don't Forget the Clear Bag Policy!
Go Tigers!