Memphis got them horses in the back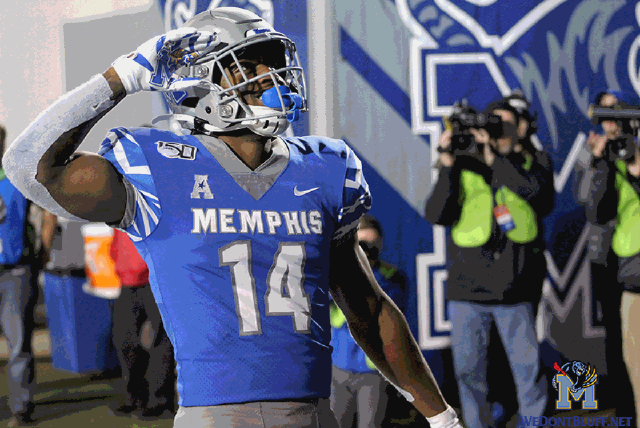 The Sellout crowd of 59,506 at the game today which is a conference attendance record at liberty bowl memorial stadium and the unbeaten 8-0 mustangs Quarterback Buechele came out gunning in the first quarter passing for 126 yards and a touchdown while the SMU defense held the explosive Memphis offense to a single touchdown in the first quarter.
2nd Quarter the tigers showed why some dub them as "kicker u" with kicker Riley Patterson scoring 3 field goals one being a 49 yarder that shocked everyone and kept the tigers in the game going into halftime giving the tigers a 23-17 lead.

After halftime the tigers continued to bring the heat out with a 97 kick off return by Antonio Gibson on the first drive, another field goal by Riley Patterson but a 50 yarder this time and ended the 3rd quarter with a passing TD from Brady White to Damonte Coxie out scoring SMU 17 to 7.
The mustangs hit first in the 4th quarter scoring first followed by another White to Coxie touchdown. SMU scrambled in the 4th quarter putting up 24 points in the 4th quarter but was not enough as the tigers held it down against 15th ranked SMU defeating them 54-48.
The energy and game play by both teams was spectacular Saturday and the reception that the Tigers got from the city touched the heart of both players and coaches via Mike Norvell at the end of the game press conference. Make sure to watch the video for more insight live from the coach & top performers of today's game.

The We Don't Bluff Player of the Game is Antonio Gibson with 143 yards receiving and 97 yards rushing followed close by the clutch points that Riley Patterson put up for Memphis with his golden foot.
Memphis has a by-week next week and face the university of Houston the week after.

Follow our Social Media feeds for updates throughout the game. Twitter | Facebook | Instagram | YouTube | SnapChat: WeDontBluff.net
VISIT OUR ONLINE STORE TO PURCHASE YOUR WeDontBluff.net Apparel
Subscribe to our Email list to receive most recent news updates and exclusive merchandise & apparel offers