Some Huskies And Some Tigers Walk Into The Forum…..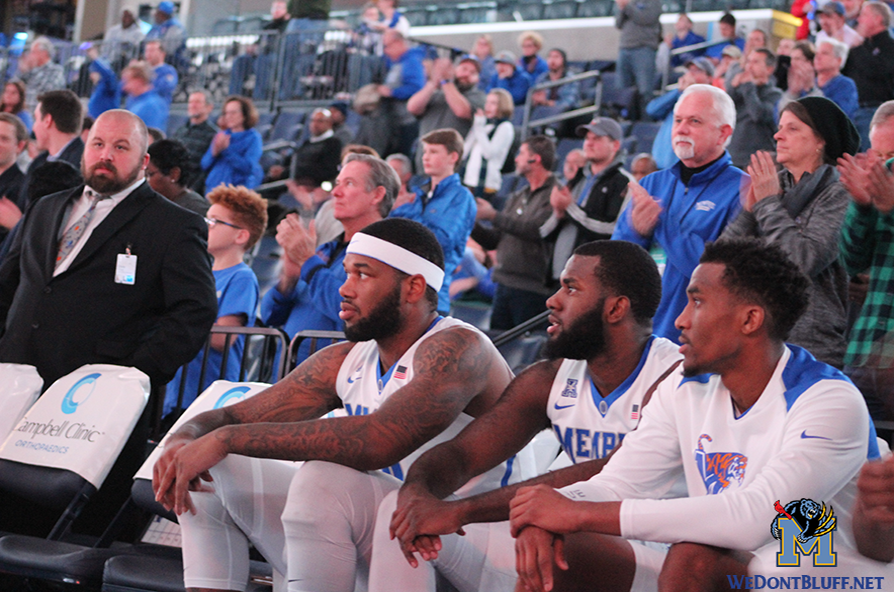 University of Memphis Vs University of Connecticut
2,417 loyal Tiger fans braved it on the icy Memphis streets and traveled down to the FedEx Forum to watch their team try to improve to 11-7 and increase their current winning streak to four.  Kevin Ollie and his Huskies are also on three game winning streak with their most recent wins coming against ECU, UCF, and Tulane.

You see that smile on Mike Parks Jr.'s face? That's the look you have when you are well on your way to your first 20 point game and your first double double.
You see that look on Jeremiah Martin's face?  I'm not sure what he was laughing about.  Maybe he's not laughing.  Maybe h's all smiles because Memphis just extended their conference winning streak to 4 with a 24 point victory over UCONN.
Parks and Martin both scored 21 points and grabbed 11 rebounds.  With his 29 minutes, Mike Parks Jr also had one steal and one block.  Martin played a team high 33 minutes and also contributed four assists, two blocks, and three steals.
Jamal Johnson (4-4), Mike Parks Jr (3-3), and Jeremiah Martin (2-2) were all perfect from the free throw line.  Kareem Brewton was the only other Tiger scoring in double figures with 10 points, 3 assists, and 3 steals.
The Tigers are back in action Saturday in Tulsa against the Golden Hurricane.  The team returns to action at the FedEx Forum on January 27th to host the Cincinnati Bearcats.
Follow our Social Media Feeds for updates throughout  the game.
 Twitter | Facebook | Instagram | YouTube | SnapChat: WeDontBluff.net
VISIT OUR ONLINE STORE TO PURCHASE YOUR WeDontBluff.net Apparell
Subscribe to our Email list to receive most recent news updates and exclusive merchandise & apparel offers..