Little Mercy for Mercer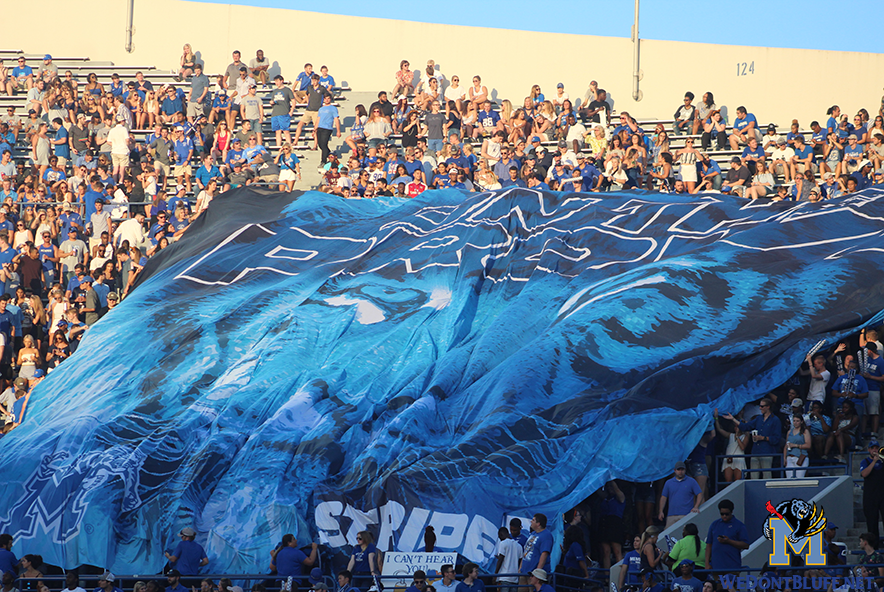 By: DOMINIQUE FROST
At season opening, the Memphis Tigers defeat the Mercer Bears 66-14 and are geared up more than ever for the rest of the season. Tiger fans have been fired up all week, roaring with excitement about the opening game.
Friday was the first time the Tigers laid eyes on their new locker room, and when defensive cornerback TJ Carter was asked his thoughts about the renovated space, he responded, "it's lit."
A locker room isn't the only thing that's new for the Tigers.  New quarterback, Brady White ended his opening game debut with 358 passing yards including five touchdowns. During, postgame interview White was asked to give insight on tonight's victory, and he replied, "I wasn't nervous, but I had some butterflies and excitement about the season starting, the Liberty Bowl is a great venue, and we have great supportive fans."
The Tigers lead 21-0 after one quarter. The offense and defense dominated early. Patrick Taylor, Demonte Coxie, Daryl Henderson all scored touchdowns in the first fifteen minutes. Let's not forget TJ Carter's closing out the first quarter with a 35-yard pick six.
Norvell and the Tigers increase their lead to 35-0 in the second quarter thanks to Patrick Taylors 75 yard touchdown and Darrell Henderson's 62-yard wheel route touchdown. Then Kedarian Jones closed out the 1st half with a 3-yard touchdown reception from Brady White ending this first half with Memphis leading 55-0.
By the end of the first half, the Tigers lead Mercer with over 50o yards in offense, while Mercer struggled to gain 50 yards in offense. During the post-game interview, Damonte Coxie admitted that the team had no intentions of letting up, but it was good for the reserves to get some reps.
At the end of the third quarter, offensive linebacker Thomas Pickens made his first career interception. Mercer didn't find the end zone until the fourth quarter when Robert Riddle passed two touchdowns to Tony Jones and Marquise Irvin. Mercer's Head Coach Bobby Lamb stated, "The team will be taking tomorrow off to digest this game and break down every facet of it."
Next week, the Tigers are on the road at Navy, and then return home the following weekend to appoint Georgia State on Sept. 14th.